GotGuitars 2023
- a good step towards normal
With all the havoc the pandemic has thrown into the lives of musicians of all kinds as well as those in the touring and musical instruments (MI) industry. Shows of every kind has been cancelled. Including NAMM and a lot of other international and local shows. Some shows have exhibited (pun intended) signs of getting back. Like NAMM downgrading to three days instead of four and being at non traditional times (i.e. not January). The Guitar Summit in Mannheim in Germany is back and seems to be doing fine. Other like the Fuzz Guitar SHow in Sweden decided not to try again. The Copenhagen Guitar Show relocated to Odense before deciding not to have the show at all.
With that in mind, I was very happy to hear that the guys behind last years vintage guitar show in Gothenburg, Sweden, decided to up their game and have an even bigger show this year under the name GotGuitars in order to attract other exhibitors than those with vintage and old guitars.
As an avid visitor to trade shows I noted the date and made sure to reserve it to get back in the game of walking the show floors trying to spot new things, new trends and make new friends among all the old friends I have had the privilige to gain at shows.
GotGuitars was held the weekend of 25-26th of March 2023 in Gothenburg in a venue that used to hold a very old auction firm. While the venue itself was charming, it does have limited spece so the arranger had to decline people who wanted to exhibit. It was quite evident as it was quitecrowded so we are many hoping for a bigger venue next year. I also hope that more distributors will exhibit next year.
That said, I would like to declare GotGuitars a success as it was anice mix of old and new, familiar and unfamiliar and a few he odd things. So lets get into it.
Please read my usual disclaimer here.
This personal report should bee seen as my very own point of view and does not reflect the view and/or opinions of any other person or company of which I may be associated either through my work or in these pictures. If you find any faulty information in this report please e-mail me at mats.n[at]nermark.com.
I usually place placed the products in alphabetical order for your convenience but here that has been difficult as very few brands had their own displays so you may find your favourite brand under the name of a music store. I hope you will forgive the somewhat hapazard order of products in this report.
Please also accept my apology for any language errors as English is not my native language.

Björk Guitars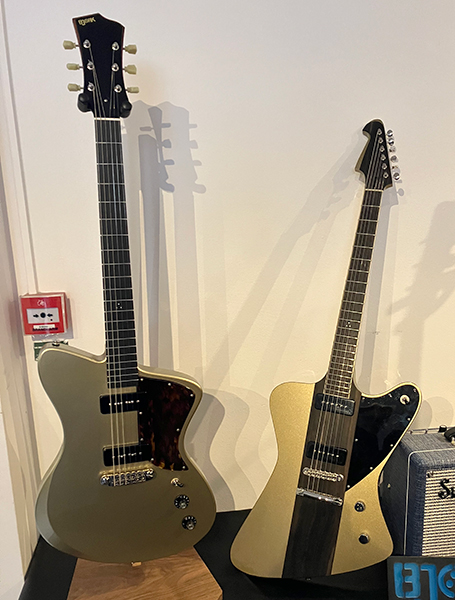 While I can clearly see where luthier Fredrick Björk has found inspiration for his designs, I can also see his own take on the classics.
Boes Guitars
Jonatan Boes was a new brand for me but it's all good news. Very nice builds. I noted with pleasure that he's found an headstock design that works for both acoustic and electric guitars. That is not very common at all.
Bromander Guitars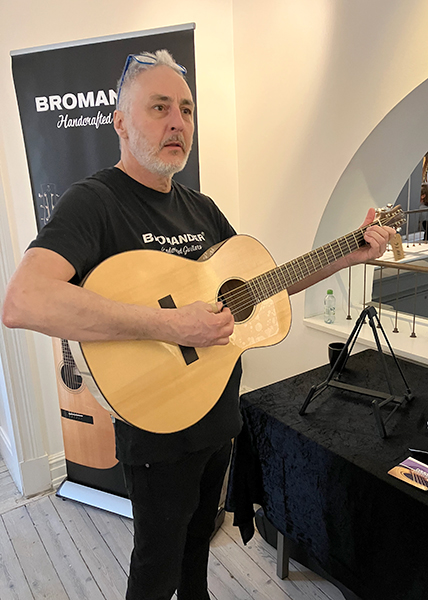 One of the nice things about smaller format shows is that you, more often than not, get to speak to the people who actuall build all these wonderful instruments. It's a great learning experience listening to these luthiers and being able to ask them about their designs.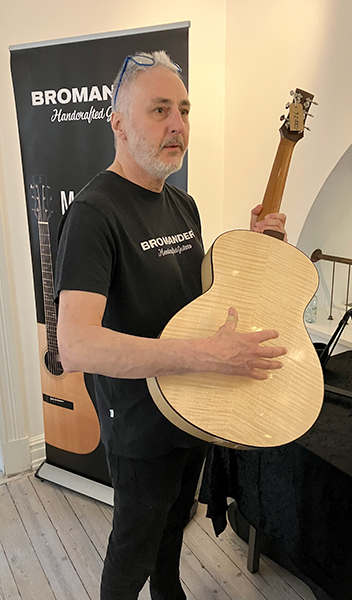 It's almost a shame to hide such beautiful wood in the back.
Bäck Instruments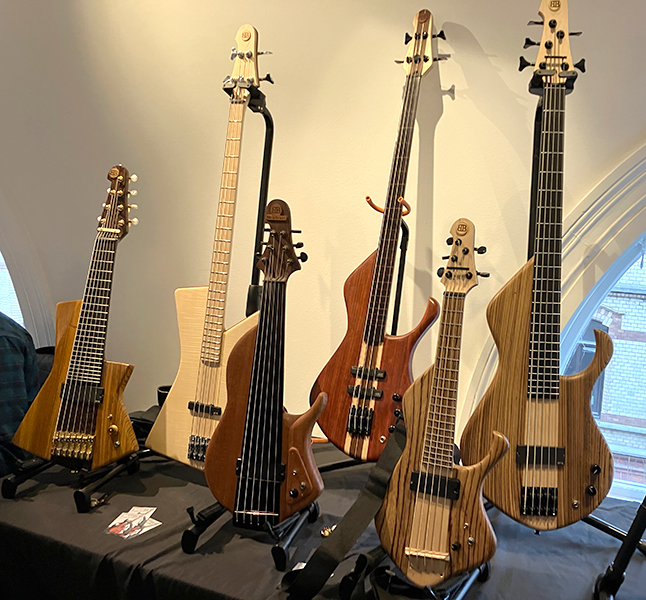 As you can clearly see in this picture, Kristian Bäckbrant is not very bound by neither traditional shapes nor scale lenghts.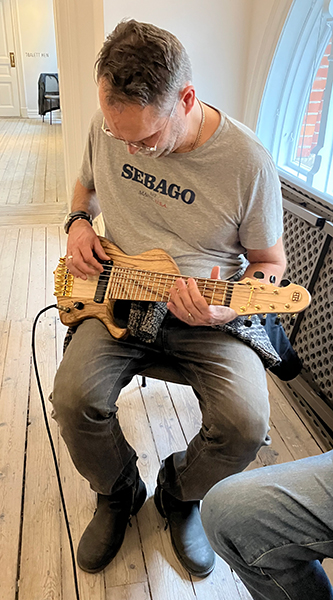 This short scale 7-string surprised me with the amount of deep bass it could produce.
Carl Åberg Guitars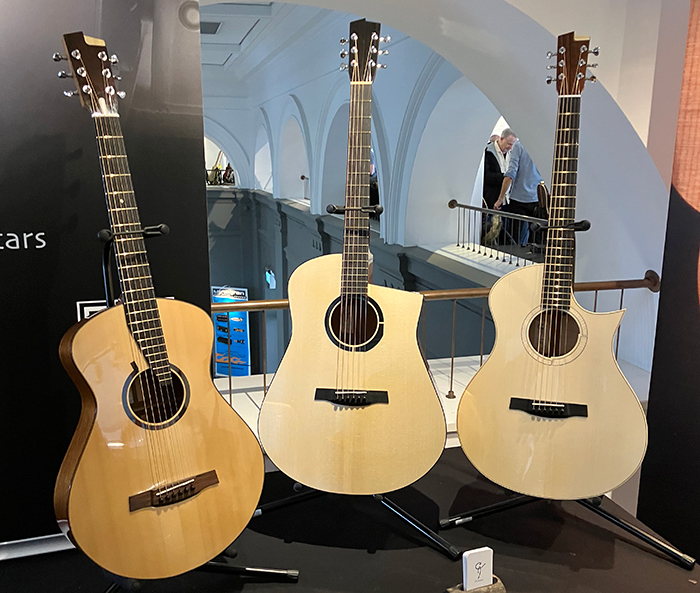 Carl Åberg was one of my two favourite luthiers of acoustics at GotGuitars. I love the way he's twisted the looks of the traditional acoustic guitars and they sound good too. While I didn't ask him, it does look like he has taken some inspiration from the designs of Claudia and Caludio Pagelli.
Fredholm Guitars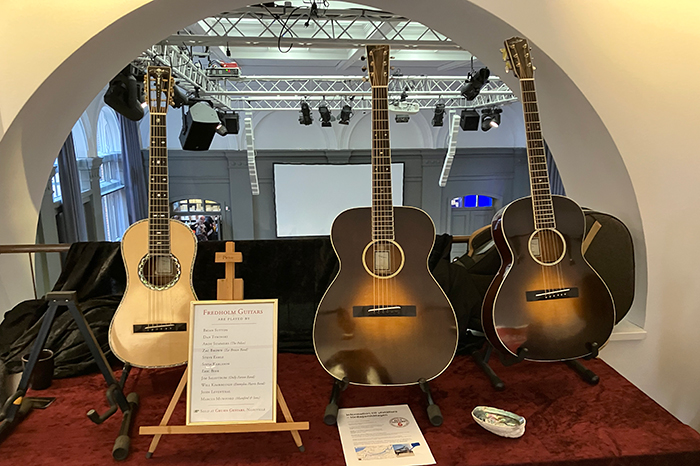 I've met Thomas Fredholm at a number of guitar shows before as we are both old hands at this. Mr Fredholm has attracted an international clientele so it's nice that he still attends the national shows.
Gitarrthomas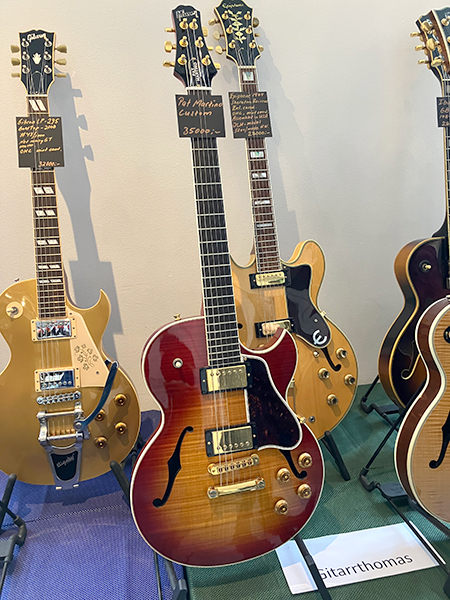 Gitarrthomas is a Swedish guitar dealer and from the content in his booth I would venture a guess that he specializes in somewhat unusual Gibson models. Here's a beautiful Gibson Pat Martino Signature model in excellent condition.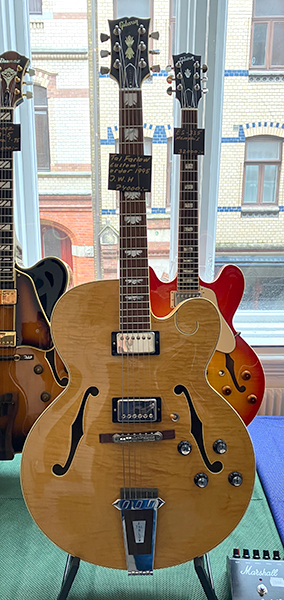 I seldom get the chance to see or play a Tal Farlow model. This one is also in excellent condition.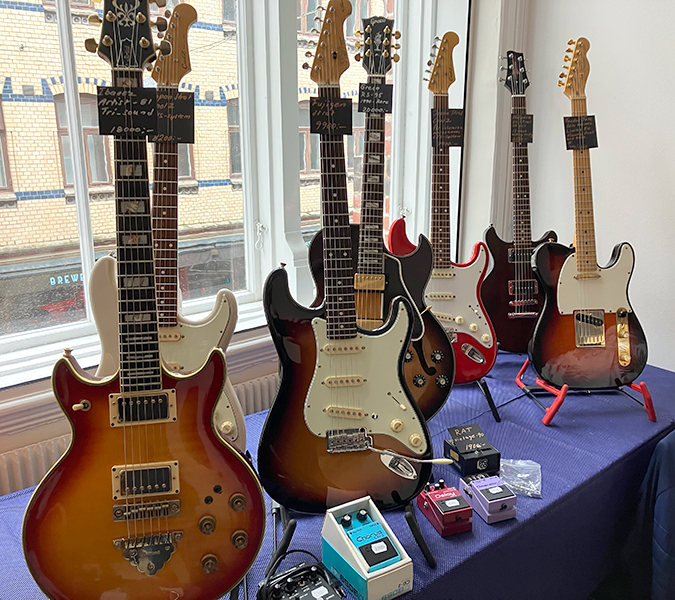 But, he also sells other brands but if you're really into relics, you will probably find them easier at other vendors.
Halkans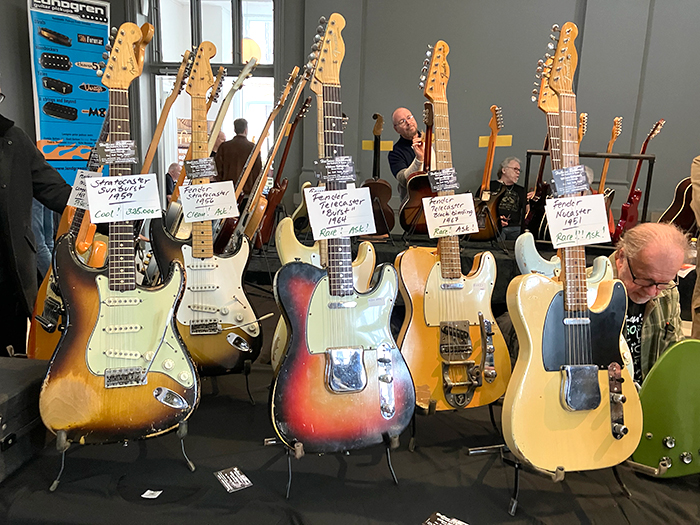 Halkans is a very well knownguitar store in Stockholm. At least to Swedish guitar players. Halkan was possibly the first store who really got into the vintage guitar market and as the pictures clearly shows, that's still a big part of his business. I was offered to play these guitars but I politely declined as I was afraid I would drop them and have to buy them. If I ever win the lottery, I will visit Halkans with less angst and more money.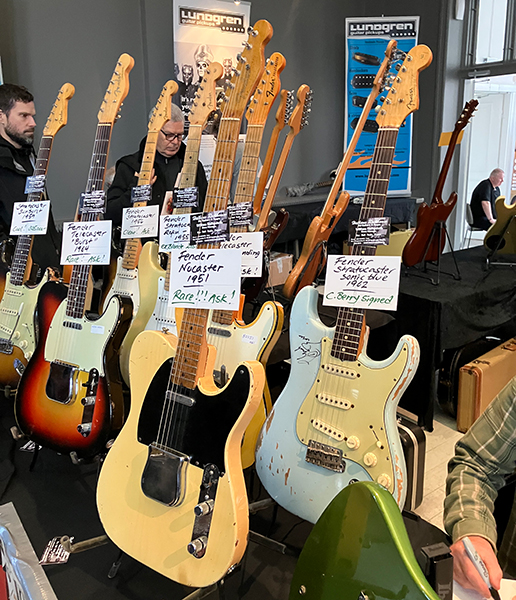 A mouth watering Nocaster! I recalled the old saying that if you have to ask what it costs, you probably can't afford it. So I didn't ask. But I can still dream.
Behind it is a Strat signed by Chuck Berry. I'm sort of curious as how that signature affects the value as I've never know Mr Berry to be a Strat player.
A smattering of Gibsons at Halkans.
Hörauf Guitars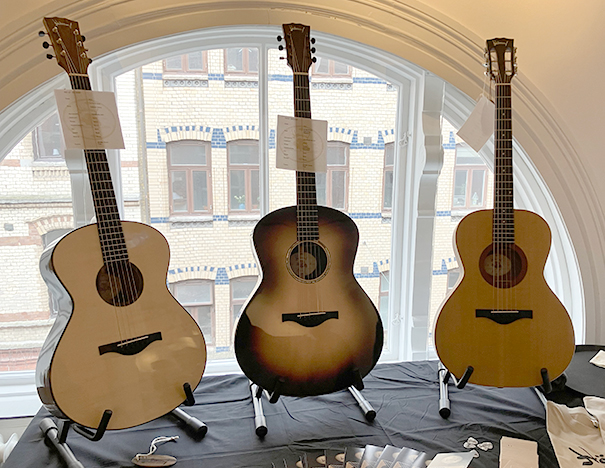 Volker Hörauf was the other one of my two favourit luthiers of acoustic guitars at GotGuitars. I must apologize to your readers, but first and foremost to Mr Hörauf, for the quality of the picture above as it doesn't come close to doing his guitars full justice.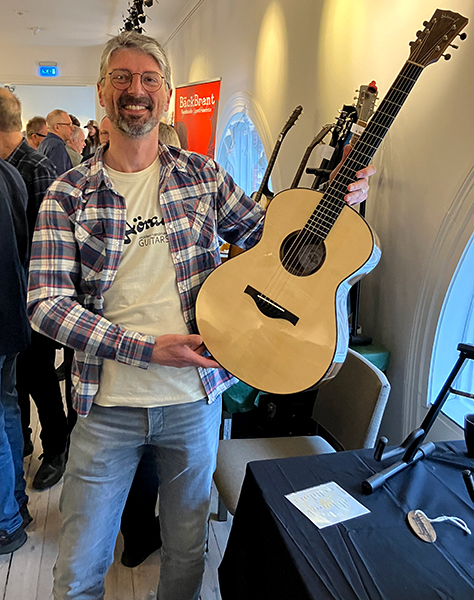 Here's Volker himself holding a very nice smaller body acoustic.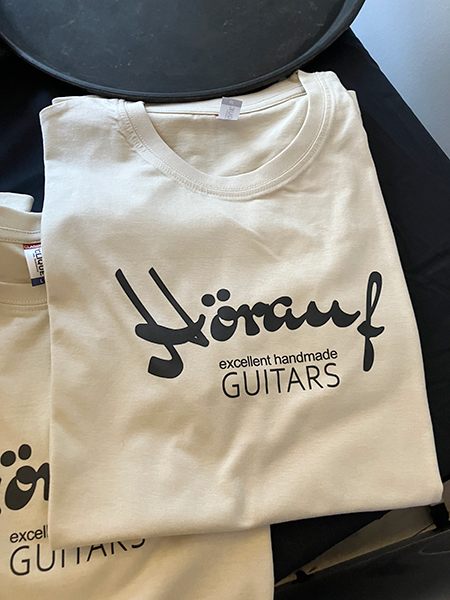 And if you share Volker's dress code, you can get his t-shirt.
Ibanez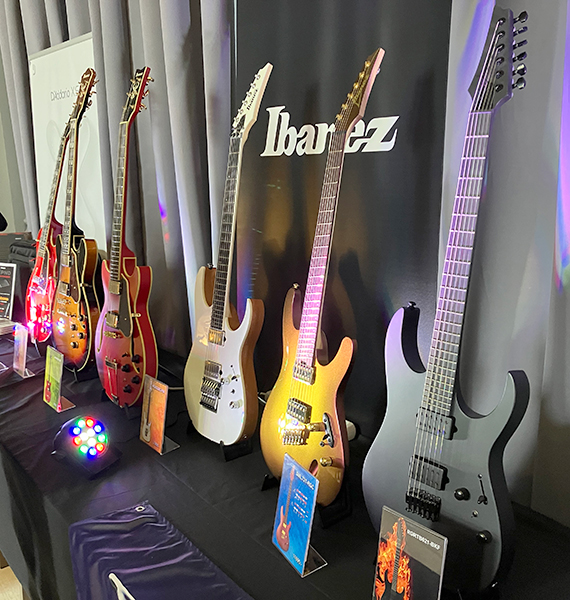 Kudos to Crafton, the Swedish distributor of Ibanez who were the only distributor who had a presence at GotGuitars. And as usual there were new guitars for everyone to check out.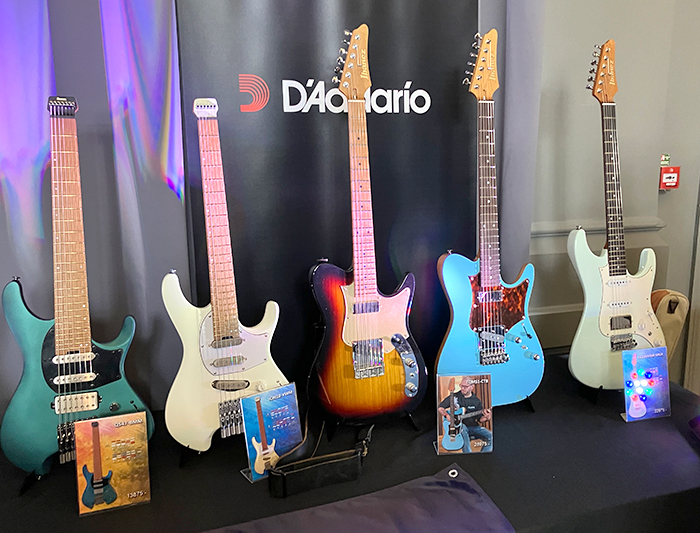 These new headless guitars were interesting. After having played an James Tyler Mongoose Retro many years ago, I've been wondering why not every maker of Tele style guitars has a slanted pickup selector. So it's nice to see that Ibanez has adopted this.
Jakobsson Guitars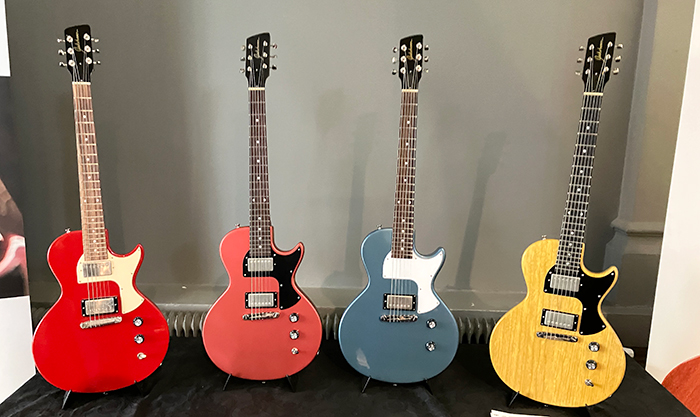 Jakobsson Guitars are definitely in the LP Special camp.
Kapten Gitarr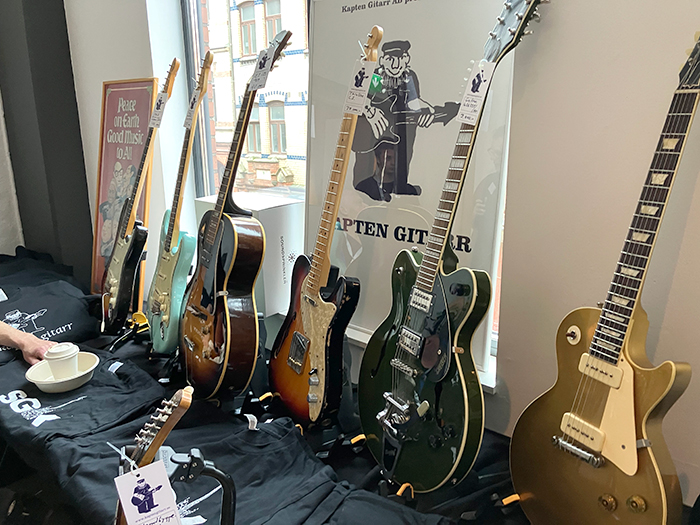 For us living in the Gothenburg area, Kapten Gitarr is nothing less than a legendary guitar shop. I can't even begin to imagine how many cool deals I've done at that store.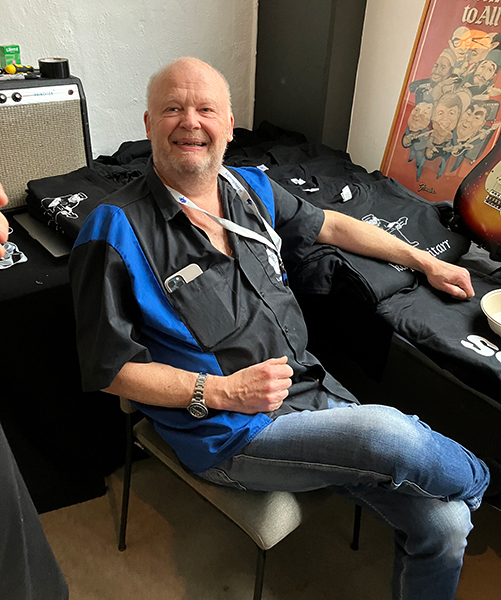 So if the store is legendary, here's the living legend behind it, Mr Göran "Guran" Blomgren. Behind the jovial front hides a wealth of knowledge. This is the guy I would buy a vintage guitar from and not worry about provenance or paying the reasonable price.
Kauer Guitars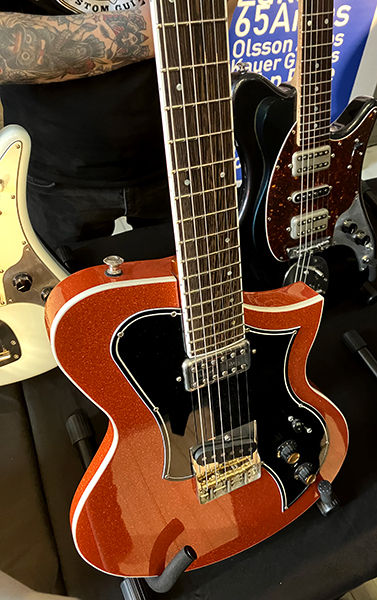 I found one of Doug Kaur's guitars at the show and that was in the booth of Malmö Musikaffär. It's a store in Malmö, in the south of Sweden. As you will see urther they have loads of super cool new guitars.
Kumerle Amps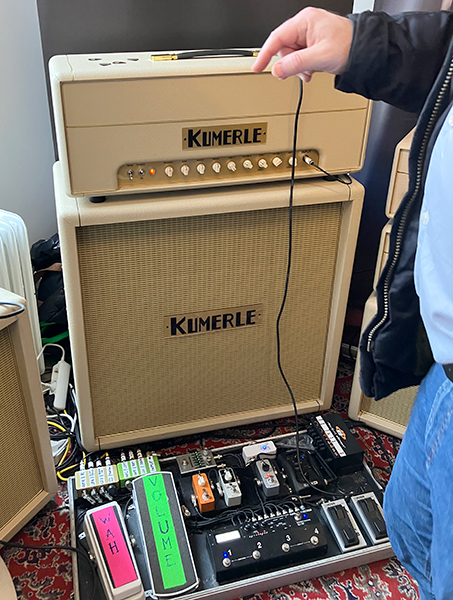 Unfortunately, there were always a lot of people around the Kumerle Amps so I didn't get any real info of them but they do look nice.
Lundgren Pickups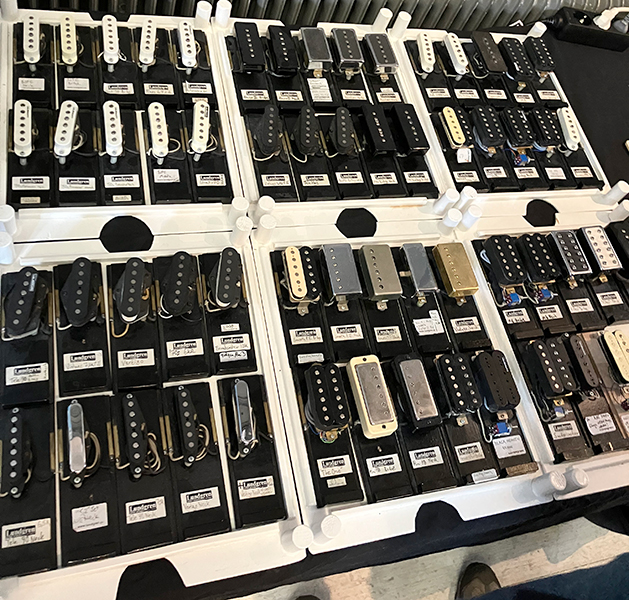 Lundgren Pickups are known all over the world and often comes as standard in guitars from well reputed brands. Here are few, or a lot actually, of Lundgrens offerings. Those of you who have visited the Lundren booth at a guitar show already knows this, but all these pickups are mounted on a slider, because .....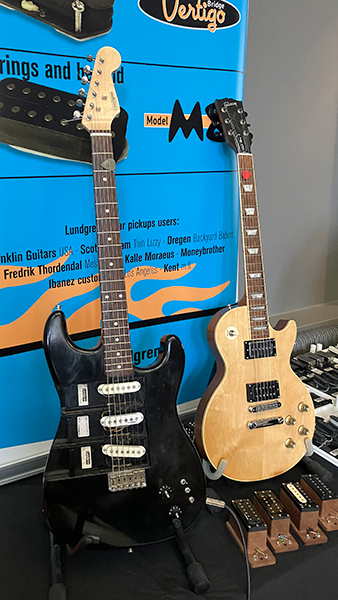 ... you can slide the pickups of your choise into the black guitar to the left and immediately audition them without first having to remove the pick guard and unsolder and resolder anything. Now Lundgren offers the same thing with humbuckers in the Les Paul to the left. I offered to buy the Strat from Johan Lundgren but he turned me down saying that he's had incredibly many offers to buy it. I'm surprised no guitar manufacturer hasn't taken this idea to fruitition. Imagine having a standardized plate you could mount a pickup of your choise on and then slide it into the guitar and immediately play. Pickup manufacturers could offer to sell their pickups already mounted to such a plate for those of us less enthusiastic about soldering. I'd buy such a guitar in a heartbeat.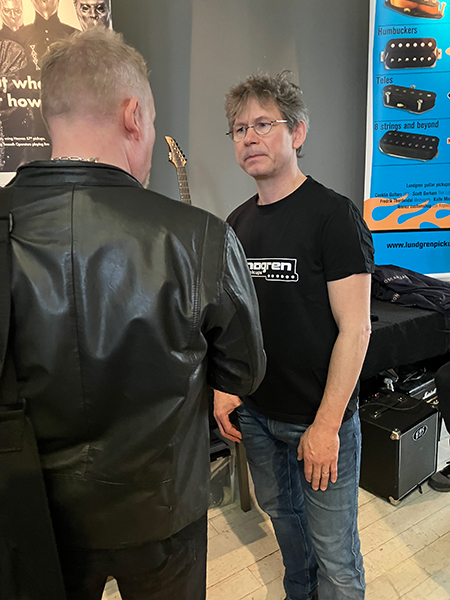 Here's Johan Lundgren showing a keen fashion sense, sporting a t-shirt bearing his logo, in discussion with guitar player and rack/pedalboard builder Magnus Lingqvist.
Magneto Guitars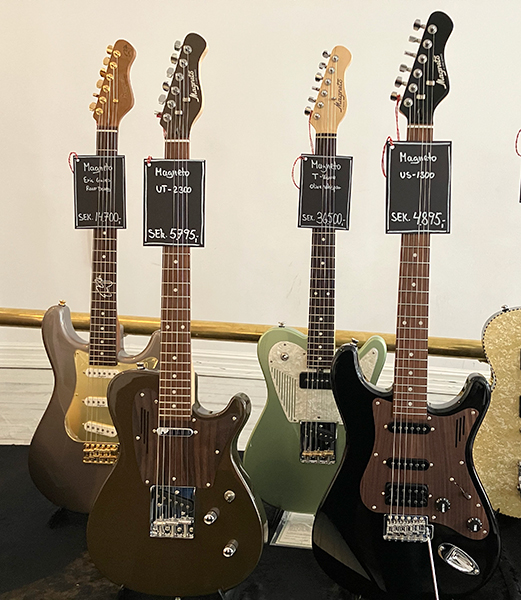 If there was ever a brand of great guitars that deserves more recognition, Magneto definitely comes to mind. These guitars are designed by a very nice gentleman by the name of Christian Hatstatt in Switzerland and made in Japan or China. I definitely like the design of these. The play superbly and sound really good.
Malmö Musikaffär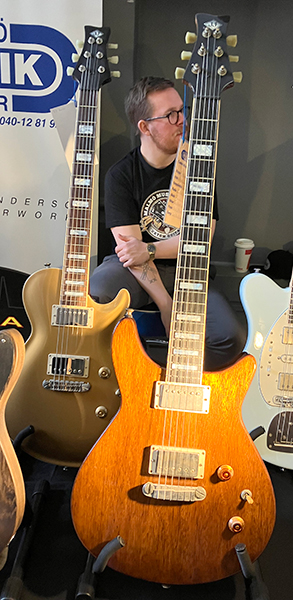 JJ Guitars
I'm very happy to see JJ Guitars getting some exposure in Sweden. I've visited Jeff Guilford's booth at NAMM several times and i constantly impressed by his guitars. A sign that Malmö Musikaffär are with the times.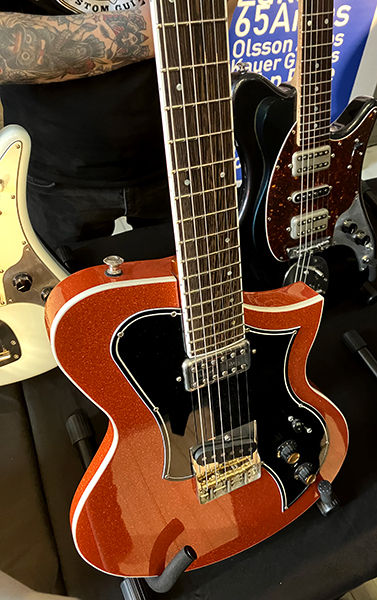 Kauer Guitars
I found one of Doug Kaur's guitars at the show and that was in the booth of Malmö Musikaffär. It's a store in Malmö, in the south of Sweden. As you will see further they have loads of super cool new guitars.
Shabat Guitars
I have followed Avi Shabat since he started his own brand and he's one of my absolute favourite builders of electric guitars. A few years back at NAMM he let me play a Telecaster style guitar that I wish I could have bought. Here are two of his instruments.

Love the Lynx. I have two favourite bolt-on neck shapes and Avi's Chunky 59 shape is soooo good!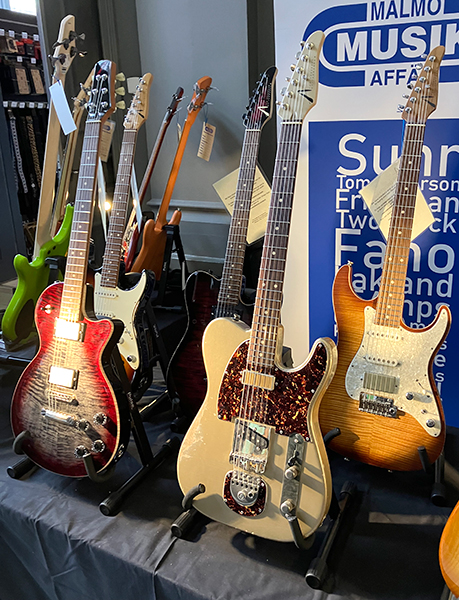 Tom Anderson Guitar Works
Malmö Musikaffär is a big dealer for Tom Anderson's fine instruments and always seems to have quite a few in stock for your retail pleasure.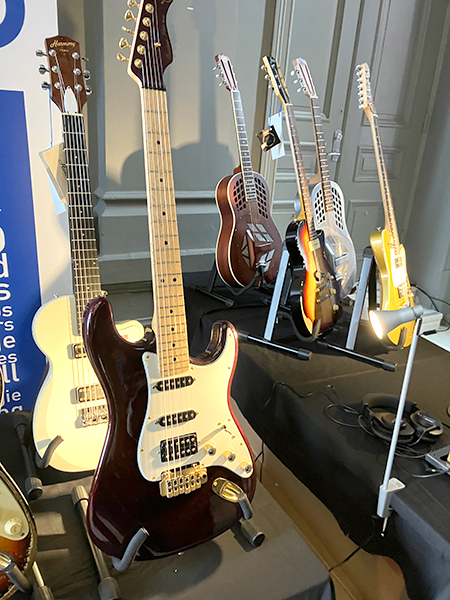 Valley Arts Guitars
Not really a vintage guitar but definitely a brand that makes me nostalgic. The first guitar store I visited the first time I went to California was Valley Arts Guitars to inquire with Mike McGuire about a custom build. As a bit of trivia, that was the first time I played a Dumble amp. He had Christopher Cross' Dumble ODS for sale. I so regret not buying it!
Moody Sounds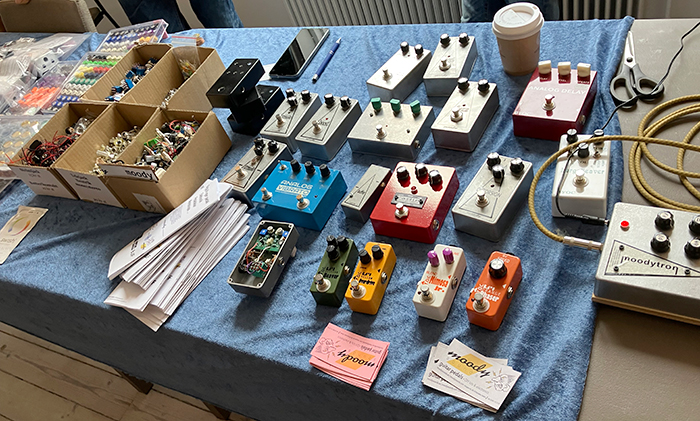 Moody Sounds has been a frequent exibitor on the Swedish scene since years back. He makes his own pedal kits and distributes a lot of others, like BYOC.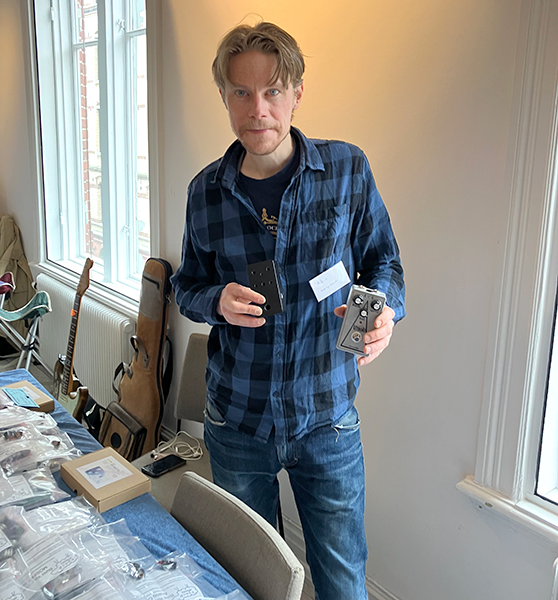 This is Albin Roslund, creator of many cool and some downright weird effects and the founder of Moody Sounds. A few weeks back I was lucky enough to partake in a pedal building workshop with Albin. It was great fun and I learned a lot and also came home with a fuzz box I built during the workshop.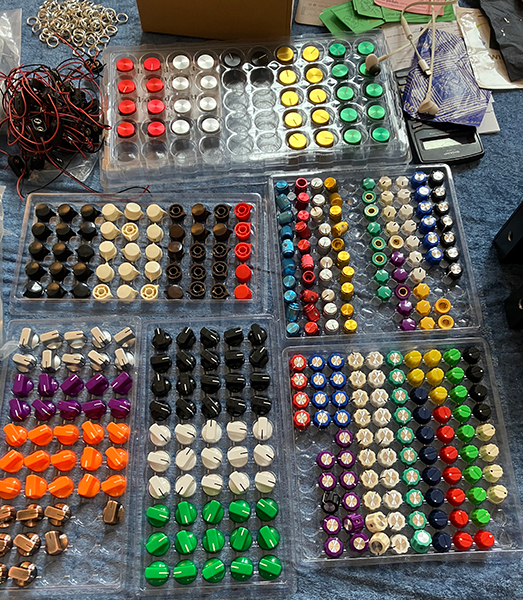 Knobs galore! If you want to pimp your pedals, Moody Sounds's got you covered!
Musik Utan Gränser (MUG)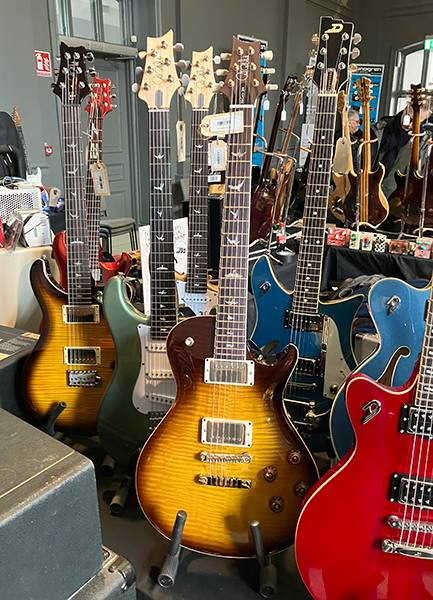 MUG is another legendary place in Gothenburg with a vibe uniquely their own. In their booth I spied a few core models as well as the much anticipated PRS SE DGT. Unfortunately I didn't get the chance to play it so a visit to Gothenburg to do so is in the cards.
Multistring instruments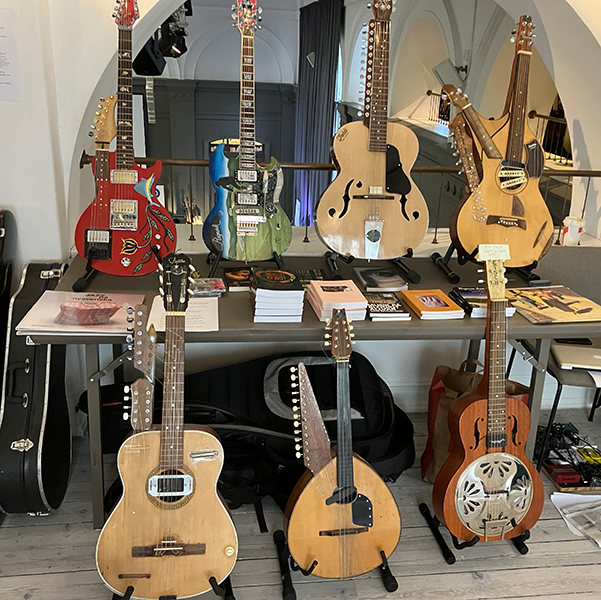 As I didn't get the name of the guy making these intriguing instruments I just call them multistring instruments for want of a better title. I would even venture a guess that he's looked at Linda Manzner's Pickasso she built for Pat Matheny.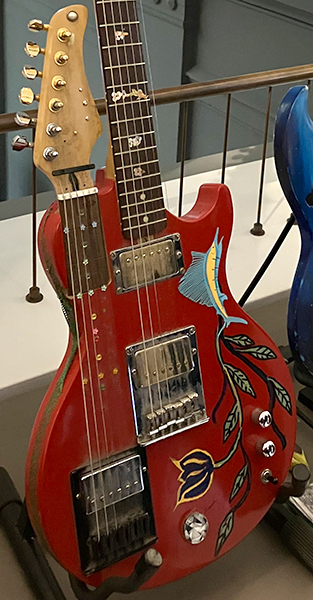 Not really a twing neck. More like a one and a bit neck.
Musikalen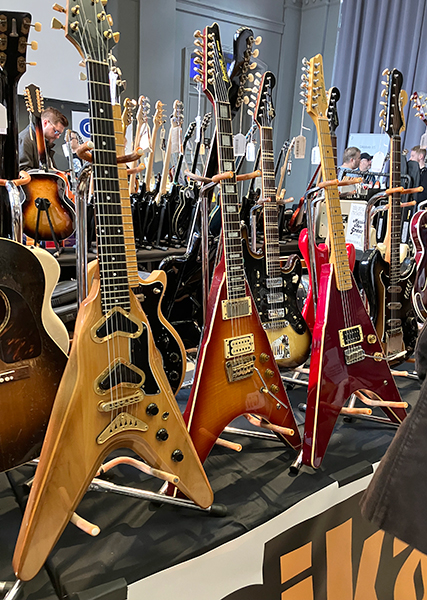 About halfway between Gothenburg and Malmö is the city of Halmstad which is where Musikalen calls home. This year the displayed tome Vees. Gibson has certainly designed so classic guitars which will stand the test of time but in my personal opinion this version of the Flying V does not belong in that group.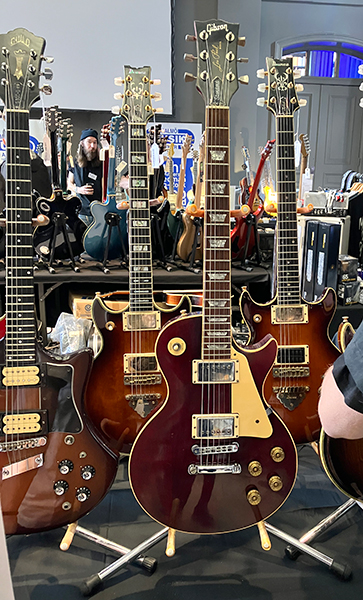 A Les Paul backed by two Ibanez Artist. The latter model seem to have increased in value lately. I like them as an alternative to the Les Paul but some of them are very heavy.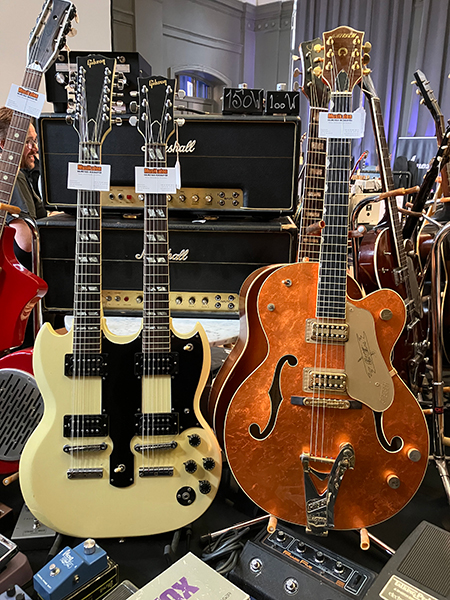 Now we're talking classics. A Gibson SG double-neck and a Gretsch with a Bigsby. I really, really would like to own that Gretsch.
Musikbörsen

Musikbörsen displayed a good number of new and used Les Pauls. Most from the Gibson Custom Shop.
No.1 Guitars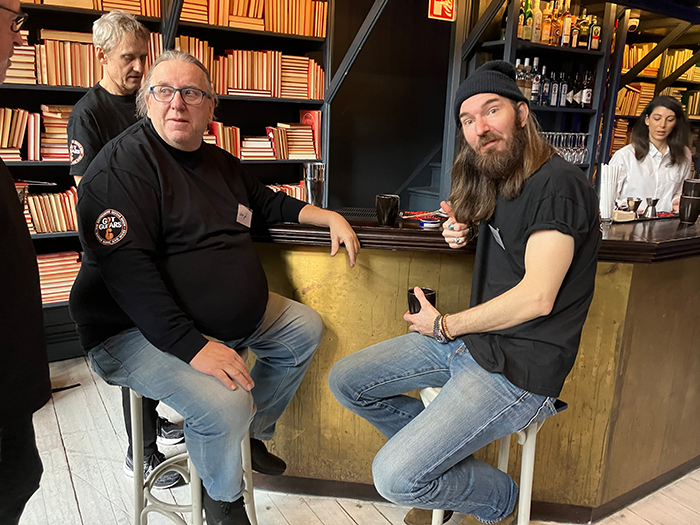 Here are Leif Lundbäck and Fredrik who are the working brains behind GotGuitars. They deserve the sincere thanks of the entire guitar and bass playing community for getting GotGuitars going and I definitely hope the show was a success so we will get to experience GotGuitars 2024.
On an associated note, apart from being a good guitar player, Fredrik is also a very talented guitar tech and builds his guitars under the name Fred Ash Guitars (read more under SHOG Distibution)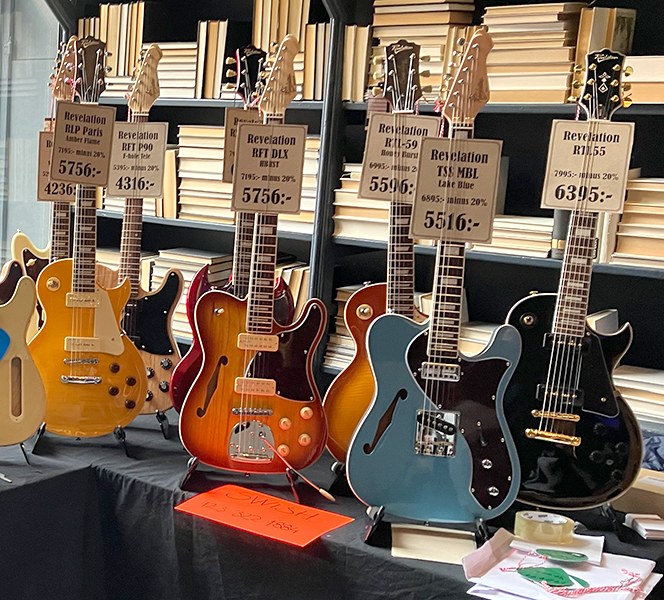 Revelation was also a new brand for me but both the looks and the prices are attractive. Another reason to vist No.1 Guitars ASAP.
Nordin Guitars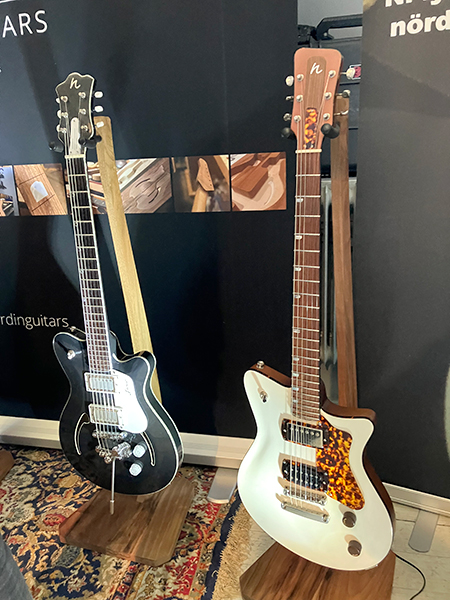 I really like the retrofuturistic designs from Nordin Guitars.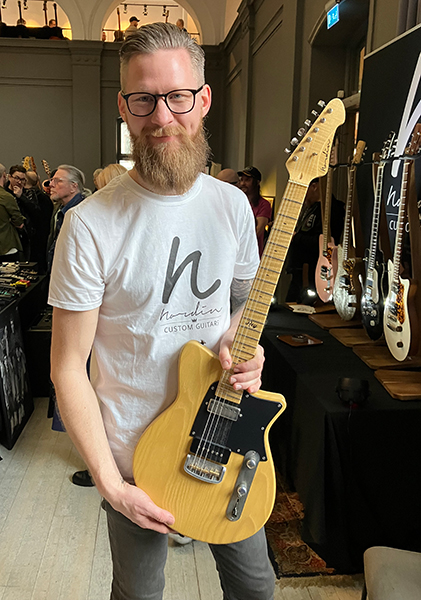 The man himself! Erik Nordin with his Comet model. I tried a good number of guitars at the show and this was the twangiest bridge pickup of them all despite it being a P90.
Per Sonnerup and Emily Gwynne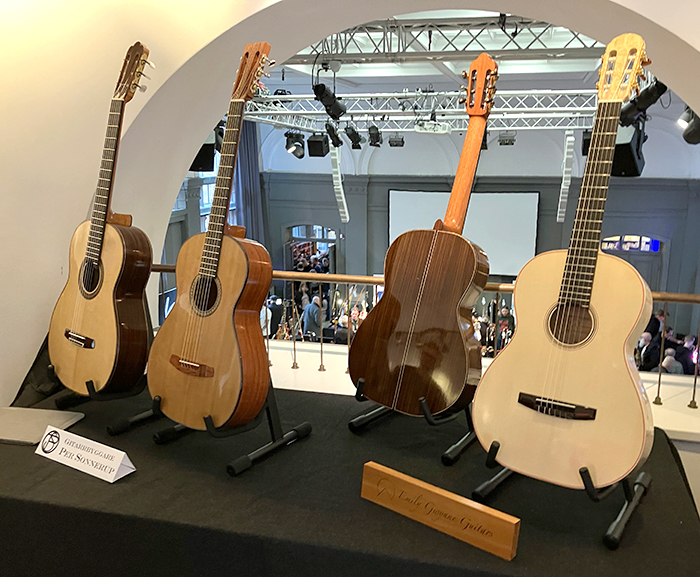 Campared to steel string acoutis builder, there are not many luthiers who display nylon string acoustics. Per Sonnerup and Emily Gwynne shared a table on the scond floor. I didn't find a possibility to try them but when I heard other people play them in the dim of the halls, they sounded fine.
Rozawood Guitars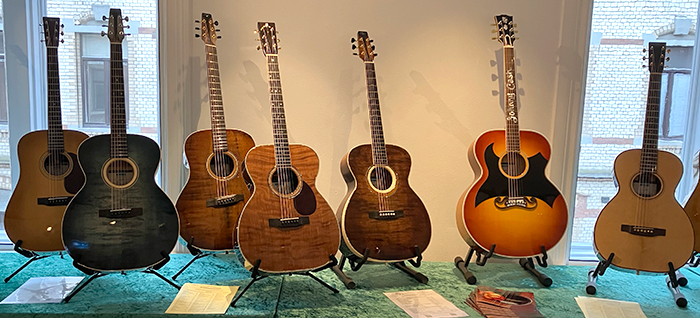 Rozawood Guitars comes from Kolin in the Czech Republic and they showed quite a few guitars that looks the business.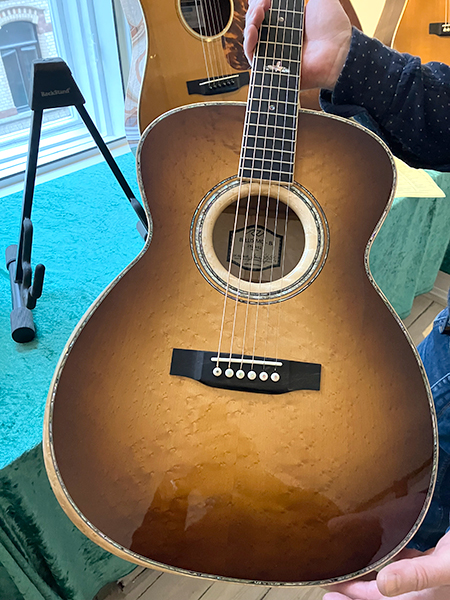 You may think this Artcraft model has a maple top and you would partly be right. It has a super thin veneer of maple on top of a spruce top and according to the company rep at the show they are glued together in a way so that the top will vibrate freely.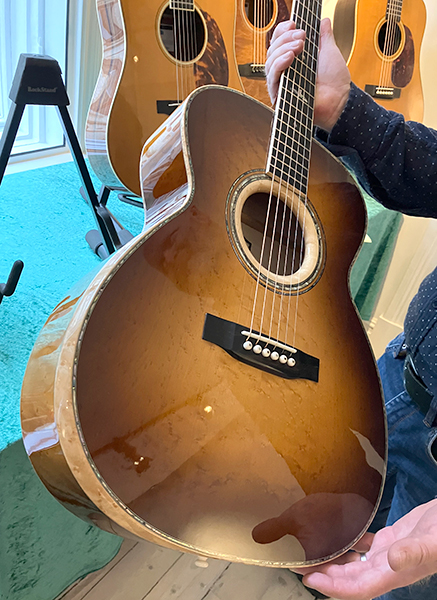 Here's abetter shot of the side bevel for your playing comfort.
SHOG Distribution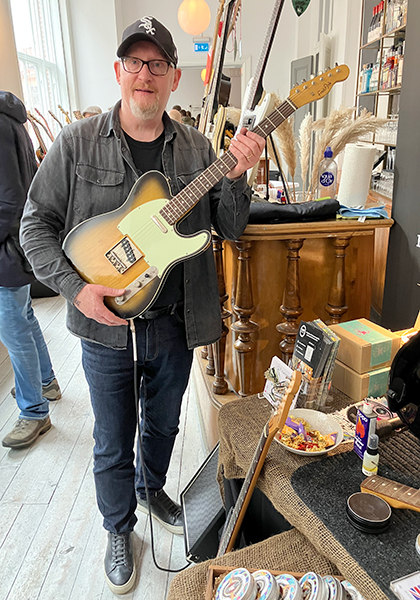 This English speaking gentleman is Allan Harvey who is the co-founder of SHOG Distribution whose mission is to distribute first class European music products. The focus at GotGuitars was Monty's pickups and accessories. Allan played a Fred Ash Tele style guitar equipped with Monty's 53 pickups and their 5-way Tele pickup selector switch. That guitar managed that hard found goal of a both fat and spanky sound. I had promised myelf that I wouldn't buy a guitar at the show but I couldn't resist aksing if the guitar was for sale. Fortunatel or unfortunately (dependingon your point of view) it wasn't. But that guitar will definitely be a basis for a future discussion with Fredrik about a possible Fred Ash.
Sonnemo Guitars
Mattias Sonnemo has sailed up as one of Sweden's top electric guitar builders. I see more and more very good guitar players playing his instruments. Judging from the guitars he brought to GotGuitars it's easy to understand why. With the value of the Swedish currency, both his quality and prices are very competitive with top US builders.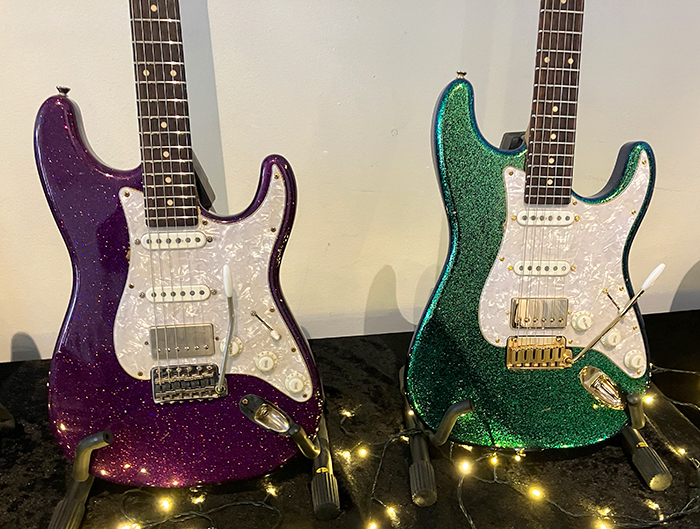 I love these sparkle finishes. If I was in the market for a superstrat style guitar, the purple one would probably have followed me home.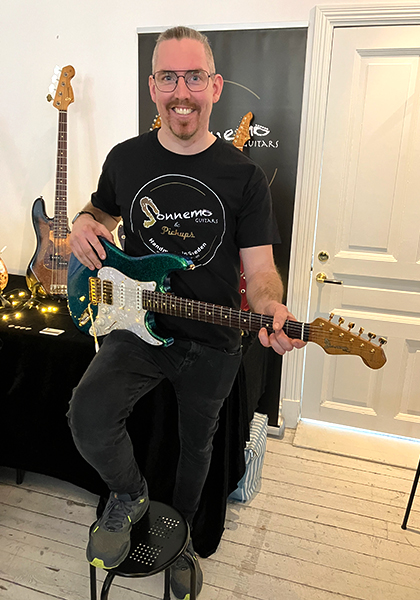 If I could build guitars like Mattias, I would also smile.
Vintage and used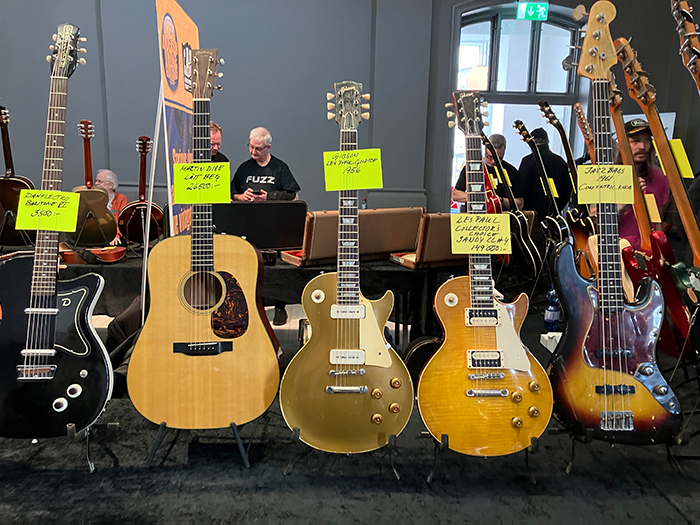 Under this headline is where I put vintage and used guitars when I can't remember who had them on display. Here are a few mixed used and vintage.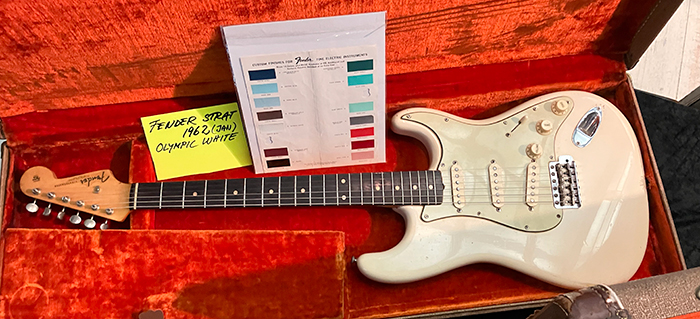 This was an unusually clean 1962 Olympic White Strat.

This 1962 wasn't as new looking but it was very light.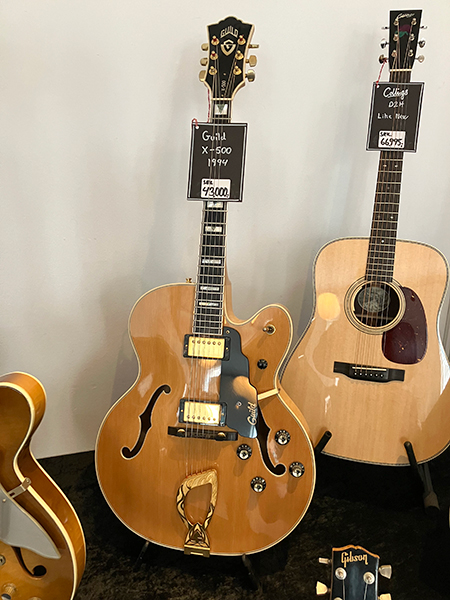 A Guild X-500 for the jazzier moments in life.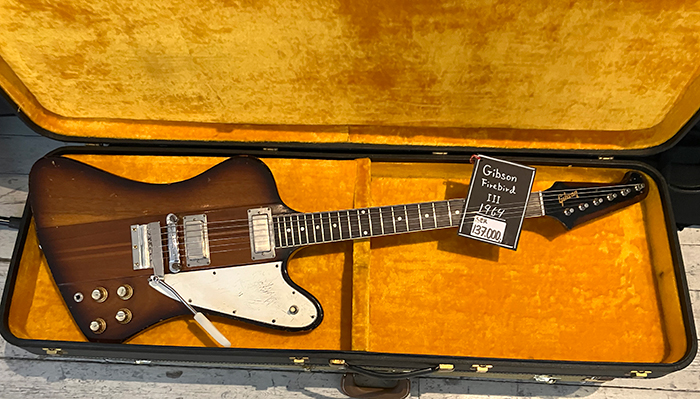 A nice looking 1964 Gibson Firebird.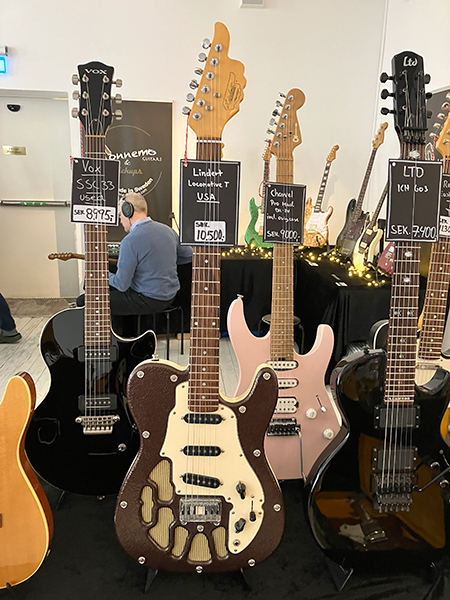 The Lindert Locomotive looks cool but I do have a hard time getting along with that headstock.
Wenström Guitars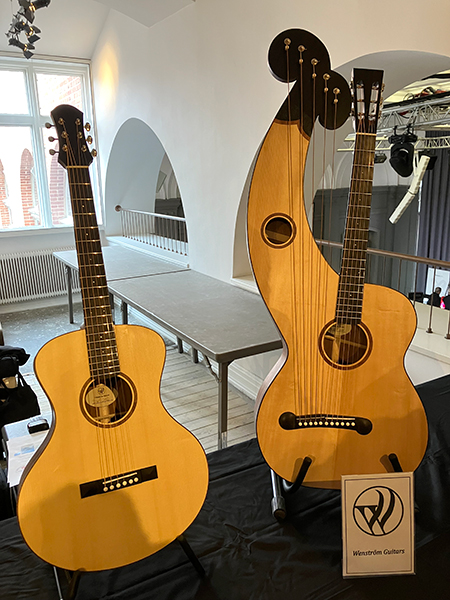 Wenström Guitars displayed two instruments whichwere testament to him pursuing his own ideas and ambitions.
Zuta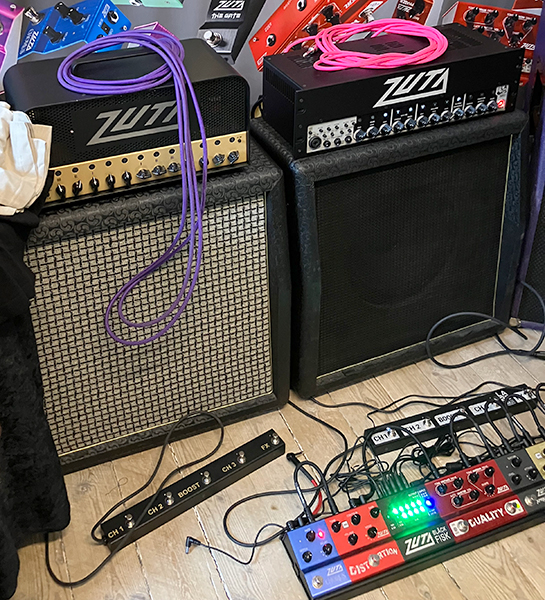 Those who are in the know have seen the amp top to the left in this picture but then with the Bogner brand. Swedish amp/pedal designer Baskin Zuta had a collaboration with Reinhold Bogner that for different reasons didn't pan out so he released the amp under his own brand. Since then Zuta has released a few more amps and a life of effect pedals.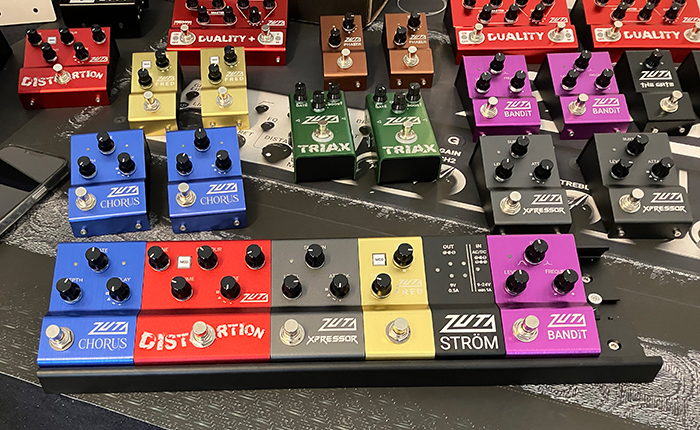 The shape of the Zuta pedals makes them easy to mount on a special low profile Zuta pedalboard. No screws or Velcro needed as you slide them in and they are set. If you need a power supply, there's the Zuta Ström and if you want to mount a traditional pedal you can get a Zuta blank on which you can fasten your pedal with velcro. Could be the base for a small fly board.
The end
As usual, I thank you for being with me all the way to the end. This was not another NAMM report but it was so very nice to get back to visiting guitar shows. So let's hope for a GotGuitars 2024. A show that can be a little larger with more distributors exhibiting. Maybe with a space where you can audition the acoustic guitars on offer as it was impossible to experience the finer details of the very fine instruments here.
I have been going to music trade shows since 1982 (my first visit to the Frankfurt Music Messe) and one part of the joy of trade shows is the people. And here GotGuitars definitely did not disappoint. I met old friend, teachers, students and music lovers of all kinds and much time was spent talking and catching up.
Finally a heartfelt thank you to all the exhibitors who made me feel welcome and who gave generously of their time and knowledge.
I hope you have enjoyed reading my report. If so, please share it with your friends. If you are planning a guitar show and would like me to report, please let me know.
As always, until next time, I wish you all peace, love and creative freedom (all which seem to be in lessening supply today)!
Cheers,
Mats N